Greetings Rita and Jeet ji
Many thanks for your support at all levels. You and Jeet ji have been very kind and supportive towards me at personal level and a great source of financial support for NB thru APCA. I cannot appreciate that enough. You both mean a lot to me.
With love and much respect, Adarsh with entire NB family
Dear Jeet Bhai,

I am so glad that yoy enjoyed the play and sincerely appreciate your wonderful feedback.

We were fortuante to have an outstanding group of cast and production team and that reflected in the final product.

APCA collaboration and support have been very valuable for Natya Bharati and it is so satisfying to see this partnership continue over the last 18+ years.

With  best regards to you and Rita,

Vijay
From: Anu Wahi [mailto:awahi@ara-inc.com]
Sent: Monday, May 05, 2014 12:07 AM
To: JATINDER KUMAR
Subject: RE: APCA
Dear Jeet Bhai
I was going to write to you anyway, to say that yesterday's concert was out of this world!!  I have been a fan of the Mishra brothers for many years, but never had the good fortune to listen to them live, in concert. Their technique, professionalism, and flawless execution in the delicate Benaras gayaki tradition exceeded my expectations. Thanks to APCA we have been able to see world class performers like Rajan and Sajan Mishra, and so many others over the years – right here, in the Washington area.
Our seats were amazing!! Thanks so much!!
Best regards
Anu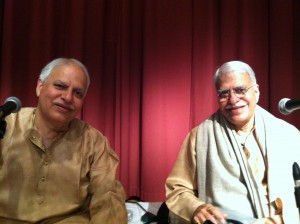 ---
From: Vijay M. Varma M.D. [mailto:vvarma@yahoo.com]
Sent: Thursday, April 17, 2014 9:46 AM
To: Kumar, Jatinder M. (CFM)
Subject:
Thanks for all your efforts for the community.
Your contributions keeps our culture alive with all of us.
Vijay M Varma MD
FACNM,FACNP,FACR
Director Shady Grove Thyroid Center
Professor Emeritus GWU
P: 240-826-6575 F: 240-826-6515
www.shadygroveadventisthospital.com