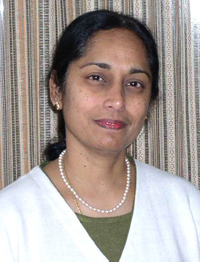 "You give but little when you give of your possessions," said the poet Kahlil Gibran. "It is when you give of yourself that you truly give."
Dr. Chitra Krishnamurti refuses to dance around that concept—rather, she embraces it by reaching out to others. On a typical work day, she fulfills her role as deputy director of the National Heart, Lung, and Blood Institute's Office of Research Training and Minority Health. But she also pursues a beloved pastime— teaching classical Indian dance to an extraordinary group of barefoot (with bells on their ankles), colorfully adorned children and adults. Through both enterprises, Krishnamurti bares her heart and soul.
"Personally, I achieve an incredible sense of fulfillment watching my students perform," said Krishnamurti, a former bench scientist at Walter Reed Army Institute of Research. A professional dancer who began training in New Delhi at age 5 and later specialized in the Odissi style of Indian classical dance, she strives not only to be a teacher, but also to be the students' confidante, friend, philosopher and mentor—in other words, a kind of mother. While instructing in the nuances of Indian culture through dance, she also imparts her knowledge of Hindu precepts.
For the past two decades, Krishnamurti has been director of Nrityalaya, an Odissi-style dance school that she operates out of her Potomac home. Translated, Nrityalaya means "Temple of Dance." Odissi began in the temples of eastern India centuries ago. The spiritual dance form uses stylized hand gestures, intricate footwork and flexible body and torso movements.
Krishnamurti says that while Odissi is similar to ballet in some respects, it is more disciplined and encompasses themes of love, devotion and victory of good over evil. The performer aims to obtain salvation through dance.
Currently, the school has 50 to 60 students of all ages, from 5 to over 40. Most have had little or no previous training in dance. Krishnamurti marvels at their determination. "These are brilliant individuals who learn lessons for life—about discipline, time management, self-confidence and how to project themselves. I am honored to be a part of these achievements in their lives, while helping them get back to their roots."
Krishnamurti's school is the first in the U.S. to graduate students in Odissi. Since the music for this dance form is unique, she sponsors musicians from India for her school shows. She choreographs and directs graduations that involve 2-hour solos. Several students have taken the experience one step further and are increasing their knowledge in the field. One plans to open a dance school and another studied in India on a Fulbright scholarship.
The school knows no geographical boundaries and, at times, travels overseas. In 2007, the performers showcased the dance drama "Mahatma Gandhi" at three cities in India, including the site where Gandhi was assassinated in 1948. The tour received rave reviews in the Indian press. The troupe has been invited to present this dance in August in South Africa, where Gandhi initiated the non-cooperation movement. Current plans include an upcoming trip to perform a multicultural dance depicting the story of Helen Keller in as many as seven cities in India. The same show will premiere on July 17 at Montgomery College in Rockville and on July 18 at Johns Hopkins University. Through the presentations, Krishnamurti hopes to create an awareness of the trials and tribulations facing blind and deaf individuals.
All proceeds obtained from the events are turned over to charities benefiting the differently abled.
Interestingly, Krishnamurti's philanthropic quest somewhat mirrors her accomplishments on the job—both ultimately benefit the less fortunate.
The focus of her administrative work is to inform applicants in underserved populations about biomedical research opportunities at NIH and NHLBI. Creating awareness about health and well-being is also part of the formula. In that context, for some time she and her colleagues have worked with Native American (Cherokee) elementary school students in Cherokee, N.C., disseminating information on key health issues and offering them "goodies from all of the institutes."
Mixing the arts and science through the concept of giving seems to define Krishnamurti. In her efforts to be a role model, "I always say that science is my life, while dance is my passion," she concluded.
"NIH Record Archives, June 25, 2010″