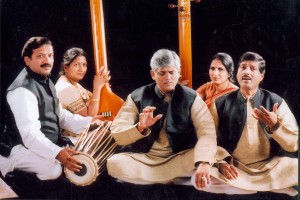 Dhrupad is the oldest style of vocal and instrumental music and is considered a major heritage of Indian culture. The continuity of dhrupad has been sustained by traditions of devotional music and worship. "The nature of the dhrupad music is spiritual and the artist does not seek to entertain but to induce deep feelings of peace and contemplation in the listener."
The Gundecha Brothers (Umakant and Ramakant) are the torchbearers of the great dhrupad tradition. After obtaining post graduate degrees in music from the Madhav Music College in Ujjain, both brothers received training from the renowned vocalist Ustad Zia Fariduddin Dagar and his brother, the veena virtuoso Ustad Zia Mohiuddin Dagar, at the Dhrupad Kendra in Bhopal.

The Gundecha Brothers' rendition of dhrupad is marked by a sense of melody and their voices display an impressive range of fullness and power thus enhancing its meditative quality. They have incorporated the poetry of Tulsidas, Padmakar, Nirala and Keshav Das into their music.
Both brothers have performed in the Washington area a number of times. They have been featured internationally in various festivals all over the world and have won the hearts of audiences and critics alike.
They were conferred "Padmashri" in 2012 by the Govt. of India for their contribution in the field of Dhrupad and Indian Classical Music.